NPCA names partner recipient of annual award in honor of commitment to national park protection.
WASHINGTON, D.C. April 24, 2023 – Today, in recognition of their commitment to national park protection, National Parks Conservation Association (NPCA) has named Yellowstone Kentucky Straight Bourbon Whiskey the recipient of its third annual National Park Defender award. This award, given out each April during National Park Week, recognizes and honors a partner who shows exceptional dedication to national park protection through authentic, impactful partnership with NPCA and educates their customers about the importance of taking action to protect parks.
Partnered since 2018, Yellowstone Bourbon has donated nearly $500,000 to NPCA to preserve national parks and inspire the next generation of park advocates; and in 2023, they became NPCA's largest annual corporate partner.* The brand's connection to national parks stretches back over 150 years – in 1872, Yellowstone Bourbon was first crafted in the same year Yellowstone National Park was designated America's first national park. Today, Yellowstone Bourbon continues to commemorate this heritage through their passionate commitment to the protection of public lands.
"Yellowstone Bourbon has a shared history with our country's national parks dating back to 1872, when our family named the bourbon after the very first national park," said Limestone Branch Distillery Master Distiller and Founder Stephen Beam. "I am proud of our continued partnership with the National Parks Conservation Association and its ongoing efforts to keep our parks wild and wonderful. We are doing our part to help educate consumers about the importance of conservation and keeping our parks protected, preserved and accessible for future generations."
Yellowstone Bourbon has partnered with NPCA on numerous campaigns to educate and inspire customers to take action on behalf of parks, in addition to their efforts to directly support public lands in immediate need. In 2022, Yellowstone Bourbon responded within days of floods that devastated Yellowstone National Park and the surrounding area resulting in nearly $100,000 raised for the Southwest Montana Relief Fund and the Red Lodge Area Community Foundation in conjunction with a fundraising event hosted by NPCA.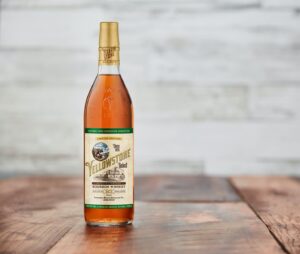 This week, Yellowstone Bourbon released a special edition NPCA collector's label on bottles of Yellowstone Select Kentucky Straight Bourbon Whiskey. The bottles feature an illustration of the bears from NPCA's logo as well as a ribbon in NPCA's iconic green. Additionally, each bottle includes a QR code that directs to a landing page where customers can learn how Yellowstone Bourbon and NPCA work together to protect public lands.
"Protecting our national parks is a collective effort that succeeds when the movement is as inclusive as the parks themselves," said Theresa Pierno, President and CEO of National Parks Conservation Association. "Businesses grounded in values, and who put those values into action, are a critical part of ensuring our national parks thrive now, and for generations from now. Based on our five years of partnership together, it's clear that Yellowstone Bourbon is one of those committed companies. We're proud to name them this year's recipient of NPCA's National Park Defender award for their ardent efforts to educate and empower national park advocates and their dedication to working with NPCA to preserve our public lands."
To learn more about NPCA's annual National Park Defender award, please visit here. To learn more about how NPCA and Yellowstone Bourbon partner to protect parks, please visit here.
*Based on donations made within NPCA's fiscal year 2023.